Life can be tiresome and boring.To make it interesting take some time out for yourselves on weekends.
Come back recharged.
DETAILS
Title : Lucifer's Lungi
Author : Nitin Sawant
Publishers : Fablery Publications
Genre : Fiction
THE AUTHOR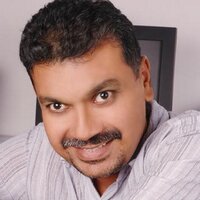 A man with varied interests Nitin Sawant is a foodie and traveller who has tried his hand at almost everything from software, stock market analysis, copy-writing, editing to jewellery designing.'Lucifer's Lungi' is his debut novella.
You can follow Nitin Sawant here on twitter
THE BOOK
Cover Picture
If you think you can get an insight into the story from the cover picture then you are wrong. The relics of an old temple surrounded by shrubs, the full moon and a piece of white cloth with the words 'Lucifer's Lungi' splashed across it in red give one an eerie feeling, something spooky and serious but 'Lucifer's Lungi' is far from that.
Wondering about the title? Then you will have to read the book to understand. Frankly speaking it was the name more than the cover or the blurb of the book that made me curious to explore 'Lucifer's Lungi'.
Blurb
An atheist city-slicker unleashed on a medieval holy village…
A simpleton village priest's boy who blindly worships and guards a pantheon of Gods and Their traditions…
Strange things happen when their worlds collide!
This is a tale of that turmoil on a lonely night in a jungle, when the ghosts you never knew till a few hours ago are let loose on the ghosts that you always carried within, unknowingly.
Welcome to the unholy clash of beliefs, fears and frailties with unknown Gods and demons. A clash that will test your convictions.A clash that will rabidly claw and unmask your subconscious, leaving you naked and paralyzed in front of your demons – in a climax that is as ambiguous as it is certain…
WHAT I FELT ABOUT THE BOOK

Storyline :
Relevant, relatable, regaling. Though at the start the plot points to a travelogue of sorts, in effect 'Lucifer's Lungi' is a story of belief vs. atheism. The author has captured the minds of both the atheist and the believer beautifully in just 100 odd pages. One can easily relate to the frustration, the awe and the fear that the main protagonist experiences as the story unfolds.
The unwavering, unquestioned belief of the village simpleton Saravana in Gods and demons is portrayed brilliantly. The fear of the demons and the awe on seeing a city-bred guy as reflected in the eyes and mannerisms of the local tea shop owner's assistance a lad barely a few feet above ground, is beautifully depicted. The maturity and serenity of the temple priest is sketched perfectly. The characters come live before your eyes as the story progresses.
The pace and ease with which the story unfolds is fine. The twists, the turns add spice to it. There is humor, there is fear. There are nail- biting moments especially towards the end. But will the story end with a tear or will it end with a laugh? Find out for yourself.
Characters : Well etched with all their imperfections. We can see a reflection of ourselves and those around us in each one of them. We can understand how their mind works in the situations they find themselves in. They are real and not figments of human mind.
Language and Length : Short and crisp. The language is simple, engaging and lucid. One does not need a dictionary at hand nor does one feel to take a break at intervals while reading the book.
Message : Don't let fear get the better of you. Fear plays havoc with ones imagination making one think and believe in things set far apart from the truth.
Rating / Recommendation : If you are looking for a light read then this is definitely one you can place your hands on. I give this 4 on a scale of 5.
WINDING UP
So true
"Once you move out of the metros in India, you tend to find people blessed with this friendly, warm hospitable smile that's kinda infectious."
Being one who has lived in metros, urban, semi- urban and rural areas I can vouch for this. The warmth the people of a small place like Kannur in Kerala exude is something I and my family cherish to this day. The smile that lights up their face even when they look into the eyes of a stranger is something one can never forget leave alone the helping hand.
.
*******************************************************************************************************************************************
I thank the
The Book Club
and the author,
Mr. Nitin Sawant
for being kind enough to send me a review copy of the book in exchange for an unbiased review.
*******************************************************************************************************************************************
BUYING LINKS
amazon.com II amazon.in II flipkart
MEET THE PUBLISHER
Fablery Publications is a contemporary publishing start-up based in Bangalore. At Fablery, our focus is on bringing out books that are more in tune with the current reading habits. Our present portfolio includes a psycho-thriller novella "Lucifer's Lungi", two graphic novels "Subbu's Code" and "Ka Kaa" to be launched at Bangalore Comic Con, along with a book adaptation of a National Award winning movie "Ri" and an anthology of historical fiction "Once Upon A Time".
Fablery Links
Website
II
Twitter
II
Facebook
Contact Details
Email id: contact@fablery.com
Check out The Book Club Tour Schedule
The Tour Is Hosted By